Outlook MMA
Outlook (N): point of view or attitude; a vantage point; the prospect for the future
We've got a positive Outlook on fitness, self-care, and mixed martial arts – including Brazilian Jiu Jitsu, striking arts featuring Muay Thai, self-defense skills, and fitness kickboxing. Our students' goals range from getting in shape, to gaining confidence, to becoming proficient in individual disciplines, to becoming professional fighters.
Experience
Lance Patrick holds certificates in the following rankings: Brazilian Jiu Jitsu Black Belt, Kru Muay Thai, Level 3 Army Combatives Instructor as a civilian
A Middle Tennessee native, Lance traveled to neighboring states as an amateur and professional fighter before the sport was officially recognized. He was a successful advocate for the sport of Mixed Martial Arts as a fighter under Ed Clay at Nashville MMA. He was a national grappling champion in the expert division and boasted a winning record as a professional fighter. After retiring due to injury in 2004, Lance became the Head Coach for the fight team and Lead Striking Instructor for Nashville MMA, remaining in this role until 2021.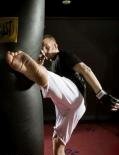 Where We've Been
Lance has coached professional fights in organizations including the UFC, Bellator, Strikeforce, World Series of Fighting, Legacy Fighting Championship, XFC, and a wide variety of regional and local promotions.
What We've Done
Lance's clients have successfully met significant fitness and weight loss goals as well as strengthened skills in the arts of striking, grappling, and Jiu Jitsu.
Where We're Going
We invite individuals of all experience levels to challenge themselves, gain confidence, and see how good your Outlook can get.